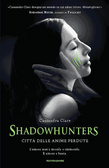 Titolo/ Title: Shadowhunters: Città delle anime perdute / City of Lost Souls
Autore/ Author: Cassandra Clare
Series: The Mortal Instruments #5
Casa Editrice/ Publisher: Mondadori / Margaret McElderry Book
Pagine/ Pages: 549 / 535
Genere / Genre: young adult, urban fantasy
Link: Amazon.it, Amazon.com, Anobii, Goodreads, Bookdepository
Rating:
Sommario: Lilith, madre di tutti i demoni, è stata distrutta. Ma quando gli Shadowhunters arrivano a liberare Jace, che lei teneva prigioniero, trovano soltanto sangue e vetri fracassati. E non è scomparso solo il ragazzo che Clary ama, ma anche quello che odia, suo fratello Sebastian, il figlio di Valentine. Un figlio determinato a riuscire dove il padre ha fallito e pronto a tutto per annientare gli Shadowhunters. La potente magia del Conclave non riesce a localizzare né l'uno né l'altro, ma Jace non può stare lontano da Clary. Quando si ritrovano, però, Clary scopre che il ragazzo non è più la persona di cui si era innamorata: in punto di morte Lilith lo ha legato per sempre a Sebastian, rendendolo un fedele servitore del male. Purtroppo non è possibile uccidere uno senza distruggere anche l'altro. A chi spetterà il compito di preservare il futuro degli Shadowhunters, mentre Clary sprofonda in un'oscura furia che mira a scongiurare a ogni costo la morte di Jace? Amore. Peccato. Salvezza. Morte. Quale prezzo è troppo alto per l'amore? Di chi ci si può fidare, quando peccato e salvezza coincidono? Ma soprattutto: si possono reclamare le anime perdute?


Finalmente è uscito anche in Italia in quinto volume della saga di The Mortal Instruments! Chi mi conosce sa che adoro Cassandra Clare e che probabilmente leggerei qualsiasi cosa scritta da lei, compresa la sua lista della spesa. Ho amato alla follia Jace e Clary nella sua prima trilogia e ancora di più Tess, Will e Jem nel prequel dal sapore steampunk che mi ha conquistato il cuore. Quindi immaginatevi la mia gioia (e terrore) nel tenere tra le mani la sua ultima fatica letteraria.
Città delle anime perdute vede ancora Clary, Jace e gli altri Shadowhunter alle prese con problemi relativi ai demoni e soprattutto con il cattivo Sebastian, fratello di Clary dal lato oscuro e legato indissolubilmente a Jace. Le vicende si svolgono un po' in tutto il mondo, con Clary che, preoccupata per Jace, decide di seguirlo, anche se questo significa dover sopportare Sebastian. Solo che ben presto scoprirà che Jace nasconde qualcosa di strano e non è lo stesso ragazzo di cui si è innamorata e succederanno BRUTTISSIME cose. Nel frattempo, Alec, Isabelle e Simon sono alle prese con i problemi del Clave e la situazione si fa sempre più ingarbugliata. Non voglio togliere a nessuno il piacere di leggersi i libri della Clare, ma sappiate che in certi momenti avrei voluto abbracciare il libro e in altri lo avrei lanciato volentieri contro il muro. C'è disperazione e senso di perdita nel libro, c'è tristezza e soprattutto non si riesce mai a capire cosa Sebastian voglia veramente e cosa c'è sotto tutte le varie manipolazioni. Insomma, si resta con il fiato sospeso.
Vorrei dire di aver amato questo libro tanto quanto i precedenti, ma non ci riesco. Ovvio, mi è piaciuto moltissimo

, lo sti

le della Clare è inconfondibile e ben più di una scena mi ha sorpreso o stupito. Qualcuna addirittura sconvolto. Eppure…eppure mancava qualcosa. Jace non era il ragazzo sarcastico dal cuore tenero che mi aspettavo di vedere, ma un personaggio che di sicuro ha sofferto la vicinanza di Sebastian (di cui non parlerò perché è assolutamente odioso. La Clare crea dei cattivi con i fiocchi). Clary è sempre più indipendente e, anche se alcune sue scelte sono discutibili, mi piace come si comporta in questo libro. Non sono una romantica, ma spero in un lieto fine per lei e Jace! Alec e Magnus…che dire? Adoro questa coppia e spero siano più presenti nel prossimo libro. Inoltre ho rivalutato parecchio Simon, specie in coppia con Isabelle. Il cambio di punti di vista ci permette di conoscere i suoi pensieri e, per una volta, ho veramente apprezzato questo vampiro. Maya invece, il licantropo, proprio non mi va giù, anche se non saprei spiegare bene il motivo.
Non posso affermare che questo libro mi abbia deluso, ma devo ammettere di essere molto più presa da The Infernal Devices. Per me la serie si concludeva perfettamente con Città di Vetro, anche se la svolta che ha preso è comunque interessante. E poi…la Clare è la Clare, non ne sbaglia uno!
Synopsis:
What price is too high to pay, even for love? When Jace and Clary meet again, Clary is horrified to discover that the demon Lilith's magic has bound her beloved Jace together with her evil brother Sebastian, and that Jace has become a servant of evil. The Clave is out to destroy Sebastian, but there is no way to harm one boy without destroying the other. As Alec, Magnus, Simon, and Isabelle wheedle and bargain with Seelies, demons, and the merciless Iron Sisters to try to save Jace, Clary plays a dangerous game of her own. The price of losing is not just her own life, but Jace's soul. She's willing to do anything for Jace, but can she still trust him? Or is he truly lost?
Love. Blood. Betrayal. Revenge. Darkness threatens to claim the Shadowhunters in the harrowing fifth book of the Mortal Instruments series.
It has finally released here in Italy the fifth installment of The Mortal Instrument, City of Lost Souls. If you know me, you are probably familiar with my not-so-hidden love for Cassandra Clare and I'll surely read everything she writes, even her shopping list. I fell madly in love with Jace and Clary in her first trilogy and even more in love with Tess, Will and Jem in her steampunk prequel which won me over. So you can very well imagine my joy (and downright terror) when I got my hands on her latest release.
City of Lost Souls

has Jace and Clary and all the Shadowhunters dealing with problems which are getting bigger and more dangerous by the minute. There's Sebastian. Clary's older and evil brother, and he's deeply connected to Jace. YES, he is and I HATED him for that. Action takes place all over the world, with Clary that, worried about Jace, decides to follow him even if she has to put up with Sebastian. She soon discovers that Jace is hiding something weird and that he's not the same guy she fell in love with.

And bad things happen. Really bad things.

In the meantime, things get complicated for Alec, Isabelle and Simon, both with their personal lives and with the Clave. I don't want to spoil the book, because if I say more I'm going to write down some huge spoilers, just know that sometimes I felt like hugging the book and some others I just want to throw it to the wall. There's a lot of desperation, loss, sadness in the book and what I really found hard to understand what was Sebastian is really up to. Plenty of suspense.
I'd love to say that I loved this book as much as the others, but I really can't. Don't get me wrong, I loved it, Cassie's writing style is perfect as ever and I've laughed and cried and got angry and surprised a lot. I was shocked and relieved as the events unfurled but… still something was missing. Jace was not the sarcastic guy with a soft spot I was hoping for, he's under Sebastian's influence and it shows. And no, I won't say a word on Sebastian because I HATE him (also, kudos to Cassie, Sebastian has me wondering every time what he's up to. Takes a lot to write such a complex character). Clary has become even more independent and even if I don't approve some of her choices, I love her a lot.

And I love what she does for Jace.

I am not usually a very romantic person, but I do hope that she and Jace get their happy endings! Alec and Magnus… what can I say about them?

I absolutely adore this couple!

So, so cute and so real, let's hope we'll see more of then in the next book. I also changed my mind about Simon, especially when he's with Isabelle. The change of POVs helps us getting into his minds and this time I really appreciated this vampire. However I still don't like Maya, really don't like her, but don't ask me why.
I can't actually say that the book disappointed me, but probably it's the first of Cassie's books which I didn't rate 5 stars. I'm much more into The Infernal Devices series right now. The Mortal Instruments had its perfect ending in City of Glass, even though the turn of the events in the following books is interesting. And Cassie Clare still rocks my world!