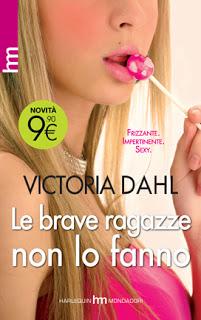 Titolo/ Title:
Le brave ragazze non lo fanno/ Good girls don't
Autore/ Author: Victoria Dahl
Series: Donovan Brothers Brewery #1
Casa Editrice/ Publisher: Harlequin Mondadori / HQN Books
Published: 2013 (IT) / 2011 (USA)
Pagine/ Pages: 360/ 384
Genere / Genre: chick-lit, sexy
Link:
Amazon.it
,
Amazon.com
,
Anobii
,
Goodreads
Rating:
Sommario:
Le brave ragazze sanno come comportarsi . Non fanno certe cose. Ma c'è sempre una prima volta... Tessa Donovan assomiglia più alla ragazza della porta accanto che a una tenace donna d'affari o a una spietata rubacuori. Ma chi vuole avvicinarsi a lei deve farei conti con i suoi fratelli; infatti non appena si accorgono che la loro "sorellina" risveglia l'attenzione di qualche uomo iniziano a diventare sospettosi e ad alzare il muro intorno. Dovere di ogni bravo fratello è difendere l'onore della sorella! Così quando Luke Asher, attraente detective dalla fama non troppo buona conosce la dolce Tessa, per i fratelli Donavan scatta l'allarme. Luke però non è come crede la gente... lo giura lui, ne è sicura Tessa, devono esserne convinti anche i fratelli Donovan. E allora l'amore trionferà.
Un pomeriggio un po' noioso e niente di interessante da fare mi hanno portato a prendere in mano questo libro. Commedia divertente, sexy e romantica. Qualcosa di leggero e possibilmente allegro. Il libro avrebbe mantenuto le promesse?
Le brave ragazze non lo fanno ha soddisfatto le aspettative e mi ha fatto passare delle ore veramente gradevoli. Non è un capolavoro e non promette di esserlo, ma è ironico, simpatico, a tratti sensuale e con un pizzico di romanticismo che, a dirla tutta, proprio non mi dispiace. Mi piacciono molto i romanzi rosa per far vagare un po' la testa e sognare a occhi aperti, e le ore passate insieme a Tessa nel suo birrificio di famiglia sono state davvero piacevoli.
Il libro è condito di storie d'amore e un pizzico di mistero: Tessa, insieme ai due fratelli, gestisce un birrificio che ha subito un furto, sul quale indaga il detective Luke Asher. Nel frattempo, Eric, il fratello maggiore, sta portando avanti una trattativa importante con la famiglia Kendall per espandersi, ma Jamie, il fratello più piccolo, potrebbe averla mandata all'aria andando a letto con la figlia del signor Kendall. È in questo scenario che Tessa deve muoversi cercando di salvare la trattativa, la famiglia e cercando di non pensare a quanto sia sexy un certo detective.
L'intreccio è divertente, magari a tratti prevedibile, ma comunque molto godibile, con un mix di investigazione e scene sexy che mantengono viva l'attenzione. In più, l'atmosfera del birrificio mi è piaciuta e adoro le storie dove ci sono sorelle e fratelli!
I personaggi sono simpatici e li ho subito presi a benvolere; Tessa, la protagonista femminile, è dolce e al contempo forte, molto attaccata ai due fratelli e sempre pronta a mettersi in prima linea per aiutarli. È ironica, ma consapevole del suo fascino, seducente senza essere volgare e soprattutto non è né troppo fredda né troppo attaccata all'affascinante detective Luke. Che, diciamocelo, non è il massimo della cordialità, ma è burbero e un po' scontroso. E chiuso, molto chiuso. Peccato che tra loro due ci sia una chimica decisamente… stuzzicante e non mancano neanche i momenti più divertenti. Gli altri personaggi sono un po' più marginali, ma i due fratelli di Tessa, Jamie ed Eric erano davvero interessanti e avrei veramente voluto vederli un po' più.
Per quanto riguarda le scene più piccanti, ammetto che avevo paura mi potessero irritare, perché a volte le trovo scritte davvero male o poco credibili, invece hanno avuto quell'ottimo equilibrio tra sensualità e realismo che hanno fatto sì non mi disturbassero.
Complessivamente Le brave ragazze non lo fanno è una lettura che piacerà di certo a chi ama le storie d'amore sfiziose. Non lo definirei un libro eccezionale, ma è stato divertente ed era tutto quello che chiedevo da questo libro.
La frase che mi ha colpito:
"A quanto pare innamorarsi con cautela è scientificamente impossibile.

Innamorarsi significa non avere più il controllo s

ui propri sentimenti, no? Avrei dovuto pensarci "
Synopsis:
"Too much of a good thing..."With her long ponytail and sparkling green eyes, Tessa Donovan looks more like the girl next door than a businesswoman--or a heartbreaker. Which may explain why Detective Luke Asher barely notices her when he arrives to investigate a break-in at her family's brewery. He's got his own problems--starting with the fact that his partner, Simone, is pregnant and everyone thinks he's the father.
Tessa has her hands full, too. Her brother's playboy ways may be threatening the business, and the tension could tear her tight-knit family apart. In fact, the only thing that could unite the Donovan boys is seeing a man come after their "baby" sister. Especially a man like Luke Asher. But Tessa sees past the rumors to the man beneath. He's not who people think he is--and neither is she.
I was having a boring afternoon and nothing interesting to do, so I picked up this book. A funny comedy, sexy and romantic. Something light and hopefully nice. Would the book keep this promise?
Good girls don't
lived up to my expectations and made me pass some lovely hours. It's not a masterpiece and well, it doesn't want to be, but it's full of humor, a bit sensual and with a taste of romanticism that, if I have to be honest, didn't disturb me at all. I love chick-lit, when I am in the mood for it; they made me relax and turn off my mind and daydream a bit and I liked spending time with Tessa and her family in the brewery.
The novel has love relationships and a bit of mystery; Tessa, together with her two brothers, runs the family brewery where thieves have stolen some computers and Detective Luke Asher is working on the case. In the meantime, Eric, the older brother, is working on an agreement with the Kendall family which would lead their company to expand but Jamie, the younger brother, may have put it at risk by having a one-night stand with Kendall's daughter. That's the situation Tessa has to deal with in order to save her family, the agreement while trying not to think about a certain detective.
The plot is fun, maybe a bit predictable but still enjoyable; Tessa, the female protagonist, is sweet and strong at the same time, she's very fond of her brothers and ready to do everything to help them. She's ironic but she knows her charm, sensual without being vulgar and she's not too cold or too attached to the fascinating detective Luke. Who, let's face it, is not exactly friendly, is a bit surly and touchy. And doesn't like to talk. Too bad that the chemistry between the two of them is really… hot and there are also fun moments. The other characters don't appear that much, but I would have loved to see more of Eric and Jamie, the two brothers, who were really likeable.
As for the sexier scenes, I admit I was afraid I was going to hate them, because sometimes sex scenes tend to be badly written or just downright unbelievable. This time I think they had the right balance between sex and realism and I liked them.
Overall, Good girls don't is a lovely read that will surely entertain romance lovers. I wouldn't call it an exceptional book, but it was a fun read and that's all I was asking for.
"Apparently falling slowly is a scientific impossibility. Falling means that you're not in control, doesn't it?
I should've considered that."