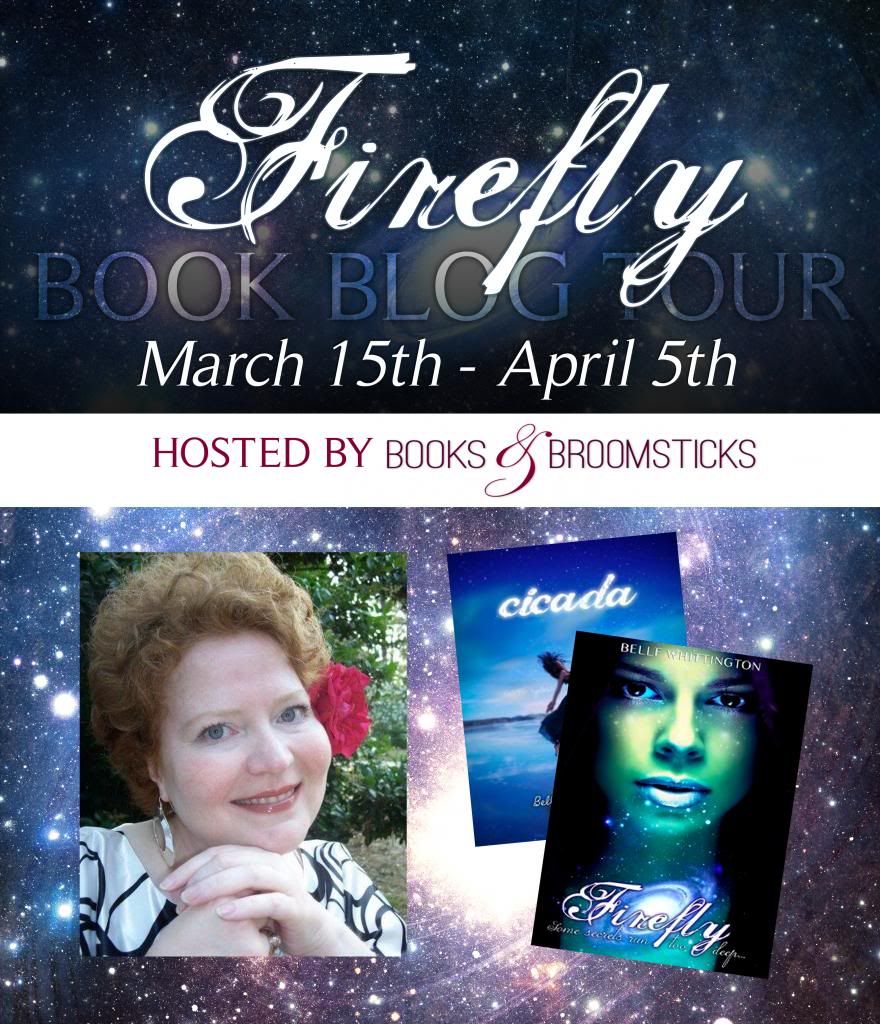 Titolo/ Title: Firefly
Autore/ Author: Belle Whittington
Series: Cicada #2
Casa Editrice/ Publisher: CreateSpace
Published: 2013
Pagine/ Pages: 508
Genere / Genre: young adult, alien
Link:
Amazon.it
,
Amazon.com
,
Goodreads
Rating:
Sommario:
"I giorni più oscuri sono davanti a noi" sussurrò Andew mentre la cortina di ombre scivolava via, permettendo a Blair di alzarsi. E nel profondo del suo cuore, sapeva che era vero. I segni inequivocabili erano attorno a lei, crescevano dentro di lei. Stava diventando qualcosa di più di un'umana. Tutto quello che doveva fare era accettare l'inevitabile.
"Sono diventata un mostro… un alieno. Non appartengo più al mondo umano" disse Blair al suo vero amore e lui la tenne stretta, deciso a non lasciarla andare.
"Rimarrei in questa oscurità per sempre se posso stare con te. Ovunque tu sia… quella è la mia casa". Everett credeva in ogni parola. Avrebbe dato la sua vita per proteggere quella della ragazza che amava.
Ma c'era una tempesta in arrivo.. una tempesta di fuoco così forte e catastrofica che li avrebbe potuti separare per sempre.
Quella tempesta arrivò in città con una giacca di pelle marrone, in sella a una moto.
Ash era un segreto travestito da umano… un segreto pericolo. Era tutto affascinante; dall'inchiostro che scendeva sui muscoli tesi sul suo petto fino alle braccia. Stare con lui era come giocare con il fuoco.
Blair sapeva come giocare con il fuoco.
Sapeva anche qualcos'altro. Una voce dentro di lei le sussurrava che sarebbe davvero stata separata da tutto e tutti coloro che conosceva e amava.
Perché certi segreti erano troppo importanti.
Attendere i sequel di libri che sono piaciuti è sempre un problema, perché non sai mai se ti deluderanno o se confermeranno la tua opinione sulla serie. In questo caso devo dire che Firefly è stato un degno successore di Cicada, che mi era piaciuto molto.
Il libro è notevolmente più lungo del precedente, ma devo dire che non me ne sono quasi accorta, troppo presa a tentare di risolvere i misteri e a fare i conti con i nuovi personaggi che compaiono. Del primo libro avevo apprezzato l'atmosfera inquietante e le descrizioni magistrali dei luoghi, che mi avevano incantato; anche in Firefly l'atmosfera di suspense e la tensione che si respira mi hanno tenuto con il fiato sospeso fino alla fine. E poi adoro le storie ambientate in Texas!
Gli alieni sembrano star prendendo piede anche nella letteratura young adult e non mi è dispiaciuto l'approccio di questa serie; qui ritroviamo tutti i personaggi ma sono molto cambiati, specialmente Everett, che è diventato totalmente diverso da come lo avevamo lasciato! E poi c'è Ash e un triangolo amoroso che si rivela davvero molto interessante. Inoltre, ho apprezzato veramente Blair, che in questo libro si trova a dover fare i conti con parecchie sfide e soprattutto dovrà prendere decisioni riguardo al suo futuro. La povera ragazza è costretta a mettere insieme i pezzi da sola, cercando di capire qualcosa di quello che sta succedendo, visto che tutti sembrano saperne più di lei ma non vogliono dirle nulla.
Lo stile, oltre che una trama ben congeniata, è la cosa che più mi è piaciuta; evocativo e poetico, misterioso e affascinante, riesce perfettamente a rendere le scene del libro ancora più suggestive!
In definitiva, direi proprio che questo secondo libro non ha fatto altro che stuzzicare la mia voglia per scoprire come andrà a finire questa trilogia.
Synopsis:
"The darkest days are ahead of us," Andrew whispered as the drape of shadows slipped away, allowing Blair to awaken. And in her heart of hearts she knew it was true. The unmistakable signs were all around her, growing within her. She was becoming something more than human. All she could do was accept the inevitable.
"I've become a freak … an alien. I no longer belong to the human world," Blair told her true love, and he held her close, determined never to give her up.
"I'd stay in this darkness forever as long as I could be with you. Wherever you are … that's my home." Everett meant every word. In fact, he'd willingly give up his own life to protect the girl he'd always loved.
But there was a storm brewing … a firestorm so strong and catastrophic that it could keep them apart forever.
That storm roared into town wearing a brown leather bomber jacket and riding a motorcycle.
Ash was like a secret in human clothing … a dangerous secret. Everything about him was mesmerizing – right down to the swirls of ink that flowed over the smooth muscles across his chest and around his arms. Being with him was like playing with fire.
Blair knew all about playing with fire.
She knew something else, too. A small quiet voice deep within whispered that she really would be separated from everyone and everything she'd known and loved.
Because some secrets run too deep.
I always have a problem when I have to wait for sequels of series I like, because I never know if they disappoint me or if they confirm my opinion. In this case, I have to say that Firefly is a wonderful sequel to Cicada, which I really liked!
This second installment is way longer than the first, but I have to say that I almost didn't notice; I was too wrapped up in the story, trying to solve the mysteries and getting to know the new characters. In the first book I loved the creepy and eerie atmosphere and the stunning descriptions of the places, which captivated me and in Firefly the suspense and the tension in the air kept me turning the page till the end. And besides, I love stories set in Texas!
Aliens seem to become more and more popular lately and I love the approach of this series; in Firefly there are all the character we got to know but they have changed a lot, especially Everett, who is completely different (but I still love him!). And then there is Ash, who is… hot… and a love triangle that didn't annoy me. Yay. I also loved Blair, who is trying so hard to understand things that everybody seems to know but doesn't want to tell her. She has to face difficult challenges and has to take important decisions about her future.
I really fell in love with the writing; it's so poetic and evocative, mysterious yet fascinating and can perfectly convey the feeling of every scene, making the story comes alive.
And now… well, I obsviously need book #3 now. Seriously, I need to know how this story ends! I can't wait to get my hands on the next book!